Road spike can be divided into railroad spike, highway spike and mine spike. The spike we are talking about is mostly highway spike. It's also called a protuberant sign. It's a traffic safety facility. The main installation is in the middle of the road line or between the two yellow lines. The driver is reminded to drive in the lane by its anti-ejection performance.
The specification of a spike is 100mm*100mm*20mm, the height is no more than 25mm.
According to the material, the road spike can be divided into many kinds. Cast aluminun spike, plastic spike, ceramic spike, glass ball spike, reflective bead spike, mine spike.
Railroad spike also can be divided into manual spike and mechanism spike. Manual spike are made by handwork, the dimensions are uneven, so the price is low. The mechanism is made by machine, heat treating and mantle fiber. Whether the shape, the size or the availability , it's your best choose.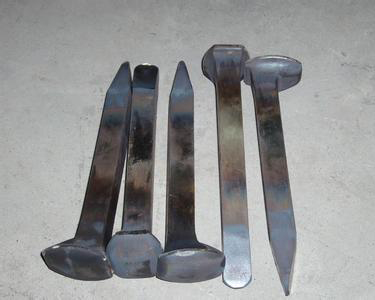 Spike is mainly used for steel rail or base plate and wooden rail link,namely a kind of fasteners which is used to connect steel rail and sleeper or base plates and sleeper.Usually divided into five types: conventional spike, cold spike, spring spike, screw spike.Mine spikes apply hot-rolled steel manufacturing technology,the nail head bottom shape fits the rail bottom shape.Screw rod surface is bright and clean, no crack in the joint of screw head jaw and screw rods, tip without burr, folding, no bubble and no burnt, crack that can interfere the use of spike in spike surface, get a lot of application in coal mine, road traffic.
Equipped with creative and responsible workers, as well as advanced equipment, Zhongxiang Steel Group is one of the largest manufacturers and suppliers of rail spike. We have many products in stock. Welcome to wholesale our customized bulk rail spike made in China at low price. And our service spreads to Southeast Asia, the Middle East, India, Vietnam, Pakistan, Thailand, Indonesia, South Korea, Saudi Arabia.
Tel: +86 15838393482
WhatsApp: +86 15838393482